These are real people just like you that have worked real hard and got real results.
If you would like to share your story please email us.
Ana – "97 lbs lost so far!"
97lbs lost so far! I could not have done it without my Winning Image family and the 8 Week Challenge! Not the same as a large chain gym where I wouldn't have received the attention that their training provides. Thank you so much for your support and care.
Jessy – "I thought to myself, wow, this is impossible"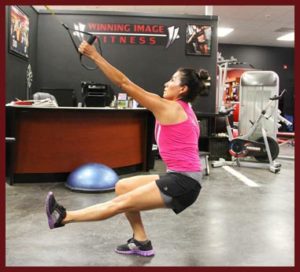 My name is Jessy and I'm 33 years old. Let me share a little about my experience, I was introduced to Winning Image through a friend who knew I was looking for a fitness studio near my house, where I could feel comfortable, work out and be able to reach my fitness goals. When I initially joined it had been 8 months since my last work out session due to a car accident that left me depressed, frustrated and feeling severe back and neck pain.
Once I joined Winning Image I thought to myself, wow, this is impossible, I cannot lift these heavy weights or meet my goal of building 10 pounds of muscle, but as the months went by, I gained the confidence through meeting people just like me who shared the same goal and so I stuck it out. It was then in 2013 that I decided to join my first 8 Week Challenge.
First and foremost I would like to thank Maria for her continuous support, motivation and for the drive she demonstrates to everyone in her class. Maria has been the true inspiration that has helped me build confidence and to believe in myself, but it also goes without saying that Leonor too has contributed to my growth and for that I thank her for believing in me.
Manny – "at first I was unable to do most of the exercises"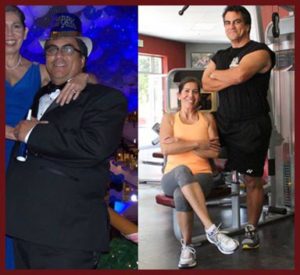 Three years ago I was diagnosed with diabetes, and I did not start taking medication immediately because I was convinced that I could manage my problem thr ough diet and exercise, and that I would do it on my own. After many failed attempts at changing my relationship with food and after seeing my sugar levels keep rising, I gave up.
My wife and I decide to take the 8 Week Challenge seriously. We attended every personal training session, every nutrition class, and weekly classes. And even though at first I was unable to do most of the exercises, I gave every ounce of effort I had at every workout, and I did my best to implement the nutritional guidelines I was learning. With the support from the staff and my fellow participants, I felt empowered to change my life style, and I did.
At the end of our first 8 Week Challenge, not only had I dropped from 260 lbs to 238 lbs, but my doctor could not believe how my numbers had improved. He took me off of one of my diabetes medications, and assured me that if I continued exercising and using the proper nutrition techniques I've learned, I would be off all medications by next year. Now, that is a goal worth striving for!
Sylvia – "My back and neck pain are gone"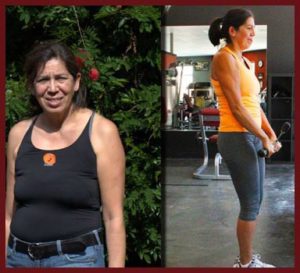 I initially came to Winning Image to take a yoga class and came across a flyer advertising the 8 Week Challenge and decided that it would be perfect for my husband. Doing the 8 Week Challenge was an eye opening experience for me as I realized how much I needed this challenge. It was then that I realized how weak my body was and how poor my eating habits were.
I have been vegetarian for 14 years and figured I had a pretty healthy diet. Taking the nutrition class made me see why I was always so tired and needed coffee just to make it through the day. I suffered many years from chronic back and neck pain, which I just got use to having and never realized that it was due to my weak muscles.
My back and neck pain are gone and my horrible posture has improved drastically. I just turned 50, but feel younger and stronger than I have ever been. Winning image has been the best investment I have made towards my health and my well-being. The trainers, the motivation, the teachings and the group support from the participants have been the ideal place for me to achieve goals that I never thought I could reach.
April – "a place where I can be myself"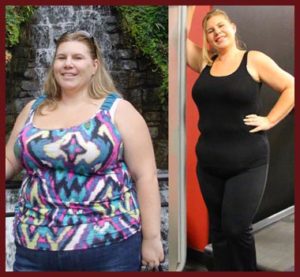 My name is April. I started my weight loss journey in early 2013. My friend introduced me to Winning Image in mid 2013 and I have never looked back. I was introduced to a different kind of work out that I had never tried before and really learned to enjoy working out. Which is something I never thought I would say.
Maria and all the instructors and trainers are very caring and have made my experience at Winning Image very personal. The 8 Week Challenge is a great program and has really kept me on track. Maria has provided me with a lot of valuable information in the diet and nutrition classes and Leonor and Daniel have pushed me to my limits in the personal training.
I have completed 3 and just started my fourth 8 week challenge. The results have been amazing and can't wait to see how much more I can accomplish. To date I have lost 70 lbs and 40 of those pounds has been with the Winning Image. Thank you Winning Image for giving me a place where I can be myself and continue my journey to a healthy lifestyle. I'm in it to win it!
Lori – "I honestly didn't believe I would ever see the results I wanted"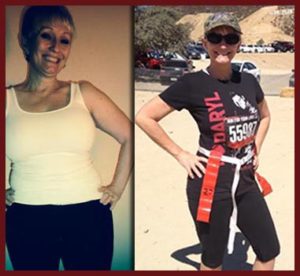 When asked who was the person who motivated me to sign up for the 8 Week Challenge the first person who came to mind was my friend, Sue Patel. I was hesitant at first simply because I didn't want to spend my hard earned money on something I know wouldn't work for me. I honestly didn't believe I would ever see the results I wanted. After years of working out I hadn't lost a pound or inch! But with Sue's pushing and shoving I joined the Challenge and was not disappointment! I'm extremely thankful for Sue.
However, in my heart I knew there was someone else who deserved the credit. A person who not only motivates me, but inspires me as well. Without this person's positive and encouraging nature, I would never have thought it possible to be where I am today. My first personal trainer, my first spin instructor. Maria, YOU are my motivation. YOU are my inspiration.
Jose – "I've struggled with my weight my entire life"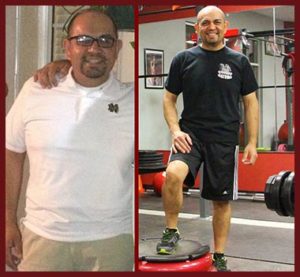 My name is Jose and I'm 46 years old. I've struggled with my weight my entire life. After many misguided weight-loss attempts and unused gym memberships over the years, I joined the 8-Week Challenge in June 2013. I set low expectations so as to not be disappointed yet again, but I was willing to give it a shot. Soon after joining the Challenge, I started seeing that this was different than all my previous attempts.
The nutrition sessions were eye-opening. I was slowly changing what I was eating and didn't feel like I was "dieting" or starving myself. I just needed the tools to recognize what that is and how to prepare it, most of it fairly simple and not time consuming. Together, the exercise and the nutrition components fit like pieces of a puzzle that I had not been able to put together. For the first time in my life I was seeing results as never before.
Paula – "exactly what I needed to begin my journey to health"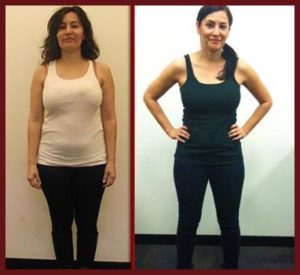 My name is Paula, I'm 45 yrs old, my story is quite simple. You have a career, get married, have a child, etc. The years pass by and you start looking at pictures of yourself and notice, wow I gained some weight. My weight started to climbing every time I went to get a physical every year at the doctor, but the breaking point was when the doctor told me my cholesterol was high and I should start exercising, easier said then done.
It wasn't till I joined the 8 Week Challenge that my eyes were opened to a whole new outlook on nutrition and exercising. Nutrition was the key to my success , I was skeptical in the beginning but I went wholeheartedly into it. The Challenge was exactly what I needed to begin my journey to health, it opened my eyes to nutrition, and a whole new lifestyle.
Anonymous – "Thoughts of weight surgery came to my mind"
My weight lost journey has not been easy. I started one year ago in January of 2016. Through physical pain and mental/emotional challenges I accomplished what I thought I could NEVER conquer at my age. After starting a family in my 30's and putting my children and husband first, I didn't care of how I looked or what became of me. I was just satisfied if THEY were happy. Boy, was I wrong! I am sure you have heard, "you need to take care of yourself first to take care of your family." But what does all that mean? Well, for me it didn't mean anything because afterall, I already put my family first priority. My turning point was a wedding dress. Yes, a maid of honor dress that was a size 24 and then didn't fit.
What was I going to do? Thoughts of weight surgery came to my mind but my husband convinced me not to. I am so grateful for that! That is where The Winning Image Fitness came into my life. I had heard of them and seen results with other people but did I really want to travel 20 miles back and forth to a gym? Well, I decided to give it a try and guess what?, My life has changed for the Best! I now have self confidence, my self esteem has come back, I am happier, I can get up by myself from the floor without assistance, have more energy, I look better then I looked in my 20's and most of all, I LOVE LIFE!! Thank You to The Winning Image Fitness Staff and Clients! They never judged me of how I looked but on the contrary encouraged me, motivated me and made me feel part of the Winning Image Fitness Family!!! I AM IN IT TO WIN IT at The Winning Image Fitness!